Nanxingdu + Tactical Urbanism

October 6th, 2020
Kunshan, China




NEWS
PLAT Studio is thrilled to announce that implementation of the Nanxingdu District Masterplan has begun—a crucial demonstration project is under construction! This space is the first of a series of tactical interventions that would extend across the district to provide open space in a dense neighborhood.

BACKGROUND
Nanxingdu is located in South Kunshan, a new residential area close to the city's manufacturing sector. Many factory workers are housed in high density units without many amenities. Identifying this gap, PLAT and their partner agency's main goal is to provide amenities close to homes.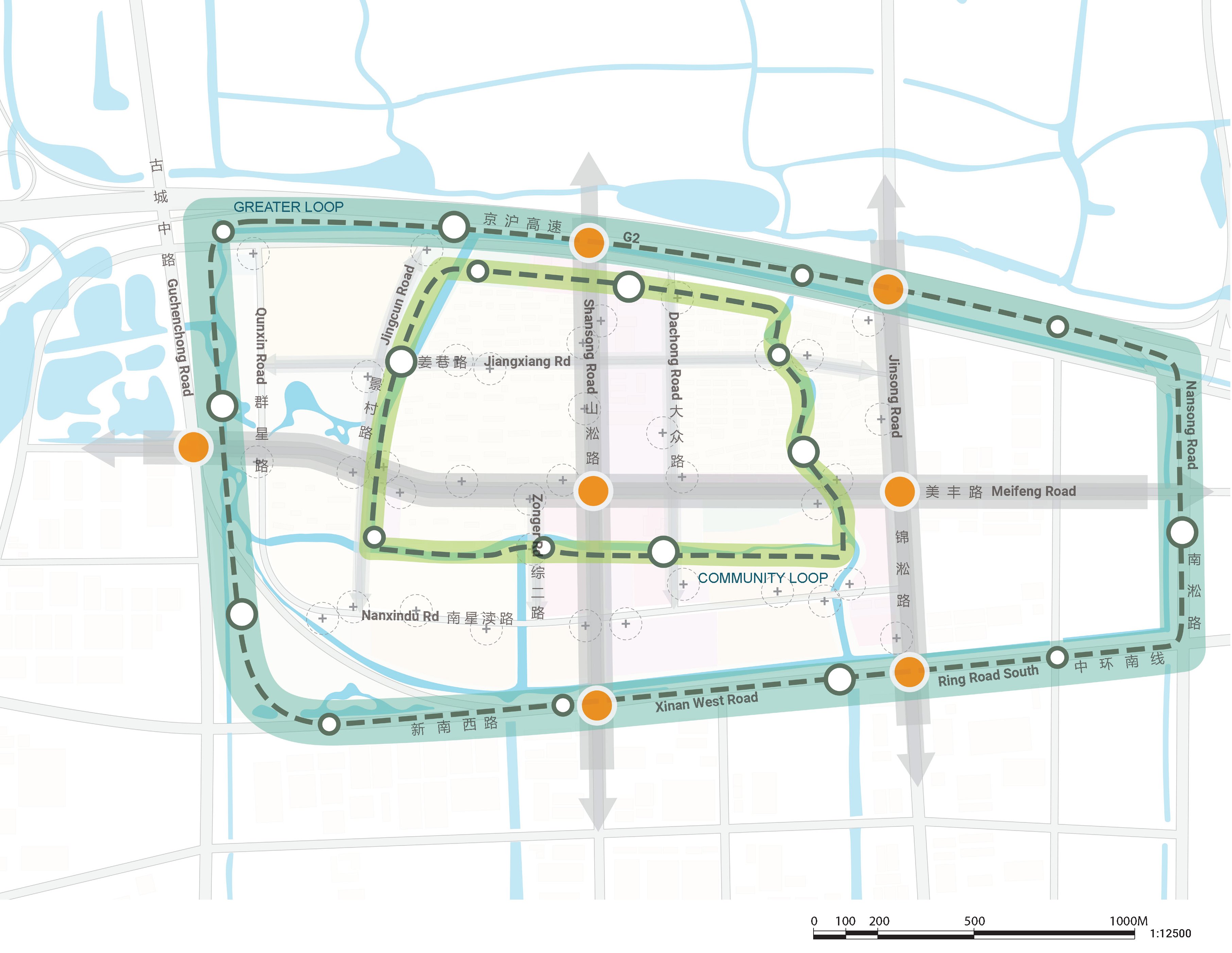 VISION
The Nanxingdu District Masterplan envisions an urban framework that centers the community's need for nearby open spaces. In the central district, the plan takes advantage of streetscapes and intersections to create parklets and plazas where many spaces are underutilized.

Currently, the site creates isolated conditions for pedestrians and cyclists: amenities are few and far between; intersections are large and car-oriented; and sidewalks and bike paths are neglected. These car-centric designs leave behind pedestrians and cyclists, and PLAT would like to remedy these circumstances.



Implementation of PLAT's open space framework involves utilizing the entire public realm, from streets to canals. Along these improved corridors, nodes will provide space for gathering and activities. Greening these streets will soften urban spaces and provide natural amenities for busy residents. As most residents are families and the elderly, it is vital to provide easily accessible public spaces close to homes.

Through targeted and small-scale interventions, intersections will become social hubs and lively amenities will energize existing plazas. Implementing green infrastructure will ensure a healthier environment, and building an identity ensures a unified design language throughout the district.



CONSTRUCTION
The first project to be built is located at the intersection of Meifeng Road and Dongyou Jing Canal. Meifeng Road is the East-West spine of the district and Dongyou Jing Canal is a centrally located park space. This tactical intervention includes a restroom and other essential amenities that are currently lacking. Providing key facilities can open up existing spaces to wider use, and this demonstration will model how analysis and precision can effect change even with spatial and budgetary constraints.

PLAT looks forward to seeing more tactical interventions constructed to bring green infrastructure and amenities to all of Nanxingdu District!


Project portfolio here