Lion Mountain Park — Connecting communities across topography

August 31, 2020
Ningbo, China



INTRODUCTION
In Ningbo's dense Jiangbei District, accessible green space is limited. Lion Mountain Park's central location and under-utilized open space can knit together fragmented parts of the District. The masterplan envisions the park as the heart of a community by crossing topographical barriers with recreational links. The design focuses on improving accessibility and programs while prioritizing ecology and sustainability.

LOCATION + SITE
Situated between major Ningbo highways, with a metro station near the South entrance, Lion Mountain is close to many amenities but lacks connection to its rapidly developing context. The mountain rises above agricultural villages and a canal which has been stressed by urbanization. Despite lacking pedestrian access and amenities, it has enormous potential, being bordered by a government-run school, planned residential communities, agricultural villages and a new innovation district.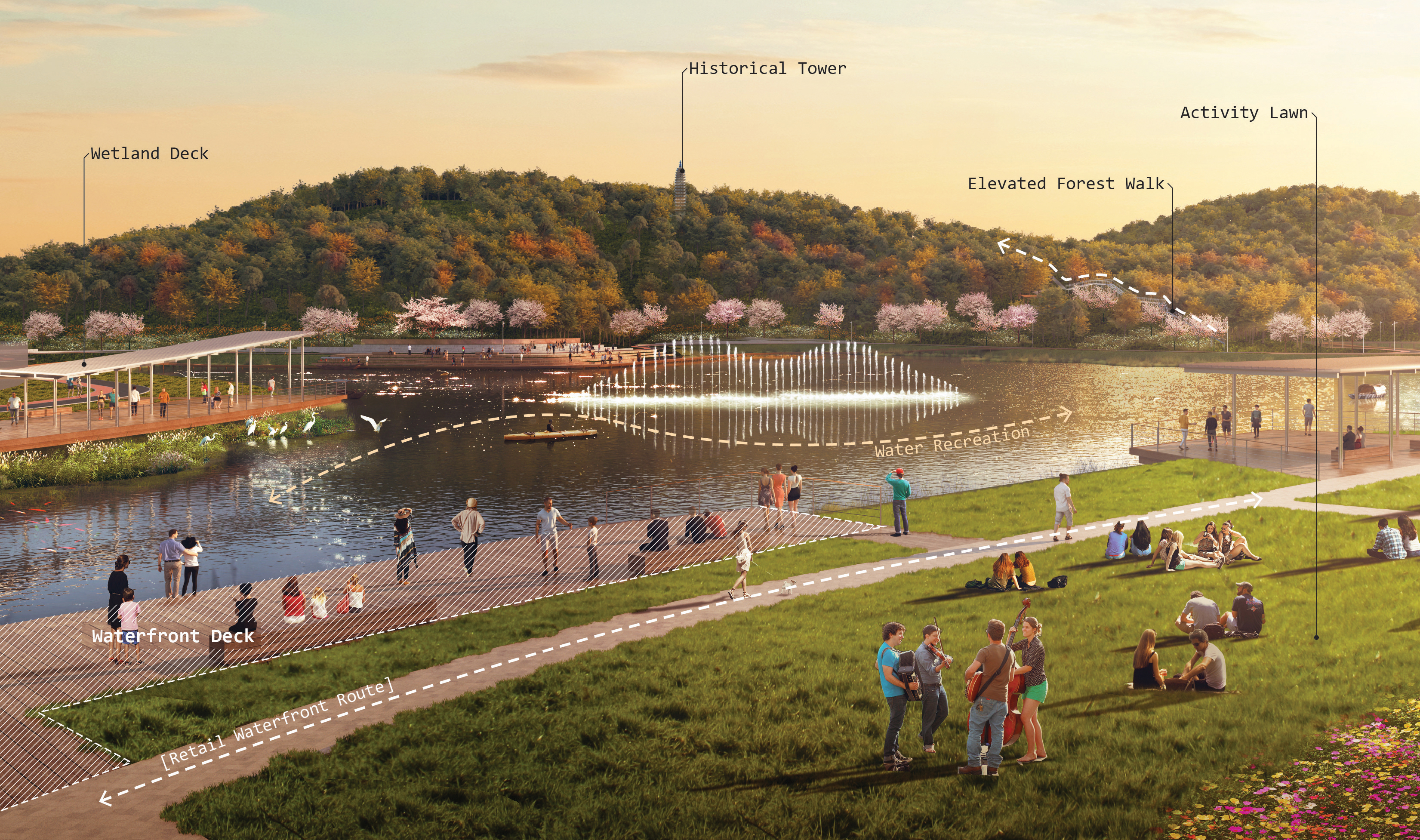 DESIGN GOALS
Urban infrastructure currently isolates the site from its surroundings, lacking clearly marked entrances, parking and pedestrian-friendly paths. The park masterplan extends beyond the site to create green corridor connections from upcoming residential areas. New entries seek to welcome visitors with greenery and amenities like cafes, playgrounds and activity lawns.

A comprehensive network of trails and nodes take full advantage of the site's unique topography and acts as the spine for recreational programs. With paths for strolling, hiking and biking, visitors are invited to explore the park. Along these routes, nodes for gatherings, wildlife observation, scenic views, performances and play areas encourage visitors to stay and enjoy the park's resources.

Ecological preservation and enhancement are woven into the fabric of the park. From creating wetlands enhancing canal health to strategic reforesting, environmental improvements enhance the park's habitat value and visitor enjoyment. Alongside wetlands, boardwalks and decks allow observation and education. Trekking through forests, hikers will see bird and animal species that cannot be found in monoculture groves.



PROGRAMMING + AMENITIES
Lion Mountain will create lush and vibrant spaces with numerous opportunities for recreation and leisure. With waterfront infrastructure that enhances the environment and guest experience, there will be paths, boardwalks, decks and viewing platforms to explore. Families can enjoy playgrounds and activity lawns with close proximity to cafes and restrooms. Adventurers can rent a bicycle or hike to scenic overlooks and take in the views. Scientists and educators will appreciate the restored ecosystems and could use those spaces for hands-on learning. In addition, amphitheater seating allows for lounging or large events and performances. The design framework lays the foundation for park visitors to pursue their chosen sports and build community.

By studying site conditions and collaborating with government agencies, PLAT Studio's park design and masterplan anticipate the community's recreational needs in addition to ensuring healthy ecologies moving forward.


Project portfolio here