Collective Impact of Outdoor Learning Initiative

July 21st, 2021
Berkeley, CA




As part of PLATx, we participated in local volunteer work in support of a wider effort to get kids back to school safely. Cofounded by multiple organizations, the National COVID-19 Outdoor Learning Initiative [NCOLI] supports schools and districts around the country in their efforts to reopen safely and equitably using outdoor spaces as strategic, cost-effective tools to increase physical distancing capacity onsite and provide access to abundant fresh air. The Initiative seeks to equitably improve learning, mental and physical health, and happiness for children and adults using an affordable, time-tested outdoor approach to keeping schools open during a pandemic.

NCOLI founders are a coalition of community and environmentally minded organizations.

Green Schoolyards America seeks to transform asphalt-covered school grounds into park-like green spaces that improve children's well-being, learning, and play while contributing to the ecological health and resilience of our cities. We are working to change the norm for school ground design, use, and management so that all children will have access to the natural world in the places they already visit on a daily basis.
The Lawrence Hall of Science at University of California, Berkeley supports STEM [Science Tech Engineering Math] education through exhibits, events, workshops, and curriculum development.
Environmental Literacy and Sustainability Initiative (ELSI) provides support to San Mateo County schools in prioritizing environmental literacy and integrating environmental sustainability and climate-resilient practices across a school's campus, curriculum, community, and culture.
Ten Strands promotes environmental literacy and practices which support students' opportunities to understand, interact, and connect with their environment in meaningful ways that promote learning and growth.
Recently, this coalition released a Field Report on the National Covid-19 Outdoor Learning Initiative. Working together, hundreds of people have volunteered their time and expertise to support teachers and students during a harrowing year. PLAT is proud to have been involved in this important work, supporting equitable access to education and resilient environments.

The biggest challenges to marginalized students during remote learning are: inequitable access to high speed internet, crowded homes, busy parents, food insecurity and reduced physical activity. Systemic issues place BIPOC [Black Indigenous + People of Color] students at a severe disadvantage, and the most immediate solution to counteract these barriers was to get students back onto school grounds. Working with schools and hundreds of volunteers, a coordinated effort ensured thousands of students were able to return to school safely and pursue their education with peers.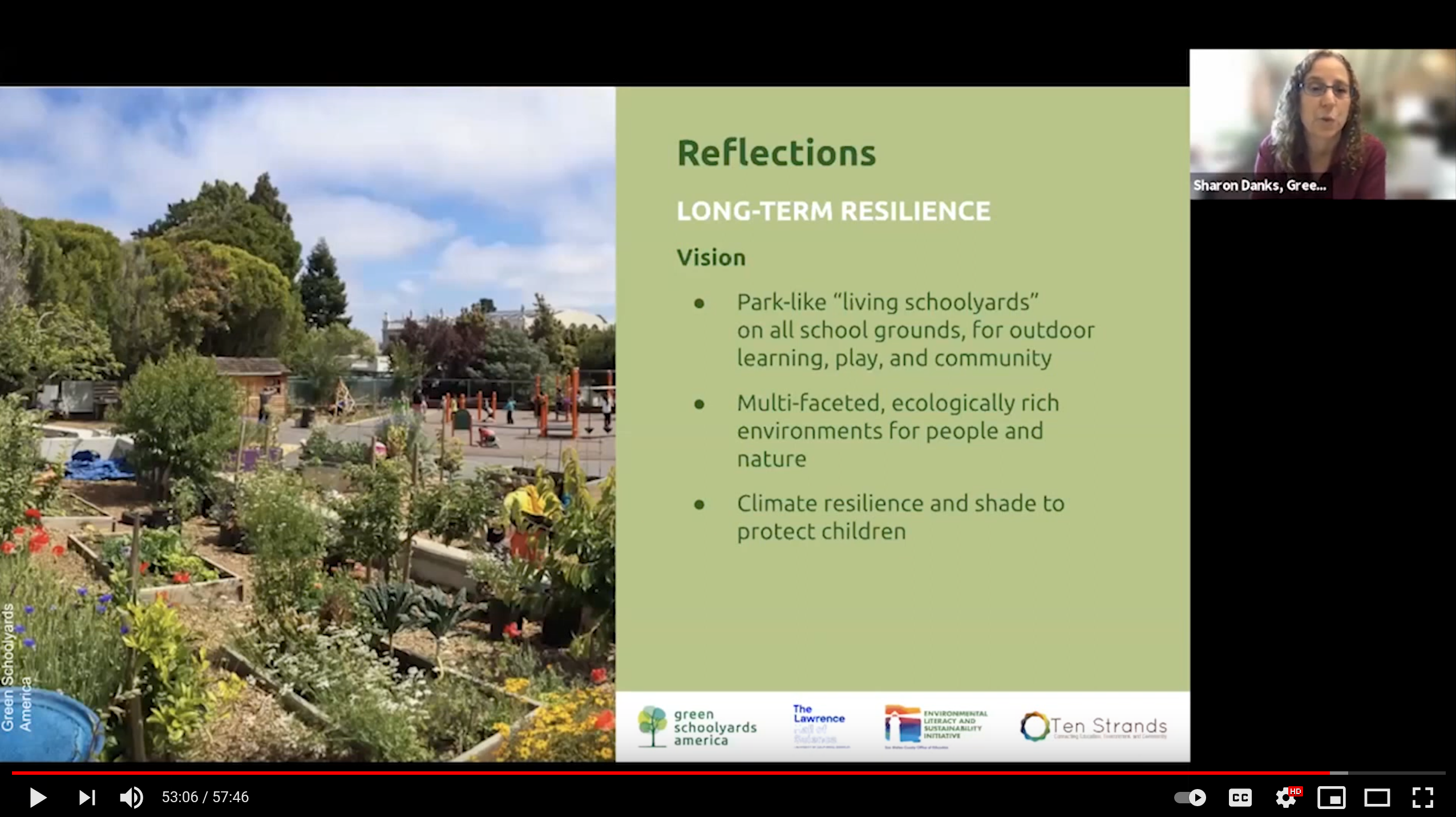 Watch the full webinar here: https://www.youtube.com/watch?v=k8QHZvmxWck


The National Outdoor Learning Library is a free resource for parents and schools to take practical steps towards outdoor learning. From health guidance and relevant case studies to policy guidance, school communities have an array of tools to approach challenges. Learning Library available here: https://www.greenschoolyards.org/covid-learn-outside

We hope that children continue to learn and explore outdoors long after the pandemic is over!